Naureen Malik | Bloomberg Businessweek | 19 Oct. 2016
Sometime in 2017, for the first time in 60 years, the U.S. will likely sell more natural gas to the world than it buys. Next year, capacity to export liquefied natural gas from the lower 48 states, chilled to –260F so it can be shipped by tanker, will more than double, to 3.2 billion cubic feet per day. That will add to huge increases in the volume of gas already being piped to Mexico and could boost exports to foreign countries to about 9 percent of total U.S. gas production.
A lot of those new exports will go to Latin America. Since the first LNG tanker left the Louisiana coast in February 2016, 34 cargoes have departed through early October, with two-thirds of them going to Argentina, Brazil, Chile, and Mexico. Colombia will be a new buyer in 2017; the country is on track to begin importing LNG from a new floating regasification vessel by the end of this year. Shipments to Asia are also set to rise as India increases LNG imports amid low prices.
Europe could be in play, too, with the U.S. trying to compete with Russia, which supplies 40 percent of the European Union's gas imports. Turkey, Russia's third-biggest buyer, took its first LNG cargo from the U.S. in late September. "The fact that the U.S. is actually exporting, and particularly LNG to places where Russia has almost monopolistic power, is a huge development," says Majed Limam, a senior consultant for LNG and natural gas at ship brokerage Poten & Partners.
Since it opened in June, the newly expanded Panama Canal is now wide enough for most LNG tankers. China-bound ships may save as much as $3.2 million per round trip by going through Panama instead of the Suez Canal, according to the U.S. Energy Information Administration. A voyage from the U.S. to Japan will be reduced from as much as 34 days to only 20. Instead of needing almost three weeks to go all the way around the southern tip of South America, U.S. LNG tankers headed to Chile can cut through the Panama Canal and get there in about a week, saving more than $2 million per trip.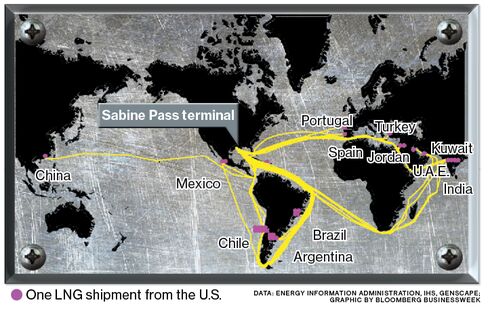 By becoming a net exporter of natural gas next year, the U.S. will take a big step toward achieving its own energy independence. The EIA sees total energy exports being balanced with imports sometime between 2020 and 2030. A decade ago, the U.S. was facing a shortage. In 2005 the EIA estimated that LNG imports would reach 12 billion cubic feet a day in 2015. Instead, as exports ramp up, total natural gas imports are down 36 percent this year, to 1.76 trillion cubic feet, from record levels set in 2007.
Read more here: http://www.bloomberg.com/news/articles/2016-10-20/the-u-s-unleashes-the-full-power-of-shale